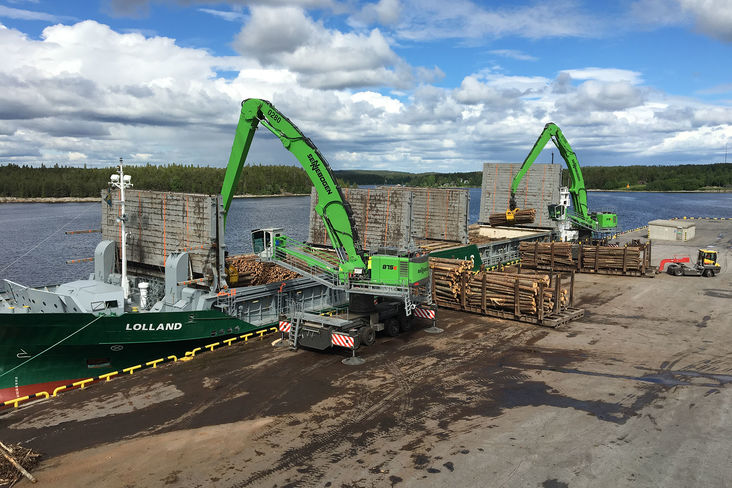 Technical data
| | |
| --- | --- |
| Operating weight | from 28.8 to 32.8 t |
| Maximum reach | from 12 to 14 m |
| Diesel engine | 129 kW |
| Electric engine | 110 kW |
Material Handler For Demanding General And Bulk Cargo Handling In Port
The 875 E Hybrid impresses with its extensive material handling capacity and simultaneous low energy and operating costs thanks to the SENNEBOGEN Green Hybrid energy recovery system. The numerous configuration options and custom gantry and pylon solutions make this the perfect material handler for the demands of port handling and industrial applications.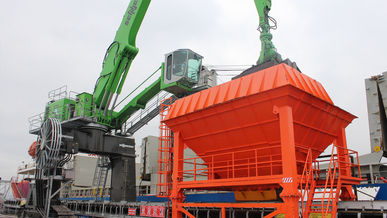 391 kW engine that meets the latest stage V emissions standards
Optional 390 kW electric engine - no stopping to refuel!
Extensive reach for unloading Handysize ships
High-performance with general and bulk cargo: handling up to 1200 tonnes of copper ore per hour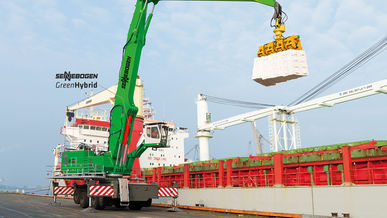 Electromobility - Made In Germany
The SENNEBOGEN Green Hybrid system reduces the required engine power
Separate gas piston accumulator in the rear of the machine
Constant power through the entire cylinder path
Reduce operating costs and save up to 50 % energy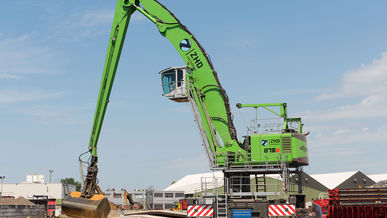 Wide range of equipment solutions - we can build the perfect machine for your needs
Crawler, mobile undercarriage or gantry solution for loading trucks
Equipment lengths up to 29 meters
On request: port stick with low deadweight made from high-strength steel for high load capacities!