Forsenia Engineering Pvt Ltd
Forsenia Engineering Pvt Ltd was incorporated in 2008 is the exclusive Sales & Service partner in India for :
Sennebogen Maschinenfabrik GmBH, the world renowned German manufacturer of hydraulic material handling equipment .
Kroeger Greifertechnik is a leading Grabs engineering and manufacturing company based in Sonsbeck, Germany.
Rotobec Inc based in Canada are global leaders manufacturing grabs and loaders.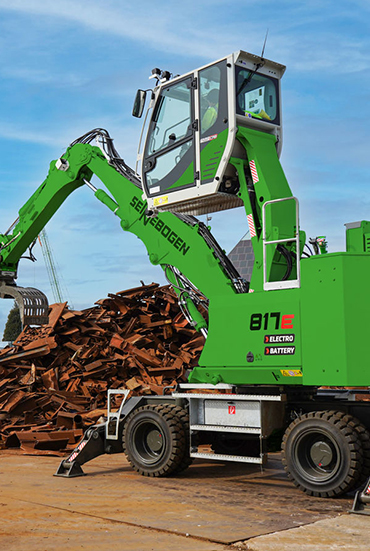 Scrap handling / Steel mills
With Forsenia's team of well qualified, trained and experienced professionals, we don't just provide you with the equipment you need but help you decide on and customise the perfect solution for your material handling needs. Known for our ease of "service", we also train your operators, carry out preventive and breakdown maintenance and ensure that your equipment is always up and running, productive and working effectively.
We stock the necessary spare parts and consumables and therefore ensure that your downtime is always kept to an absolute minimum.

Operational material handling equipment supplied and serviced by Forsenia, over the last 15 years, some in operation for over 60,000 hours, in dusty, harsh and unforgiving environments and extreme climates, bears testimony to the robust machinery design and hardy components that provide relatively trouble free service for years on end.

Headquartered at Mumbai we provide reliable commissioning as well as warranty and after sales services pan India.

When you partner with Forsenia Engineering Pvt Ltd you can be assured of a 'One-Stop-Shop' service that is unbeatable for its speed, reliability, and safety.