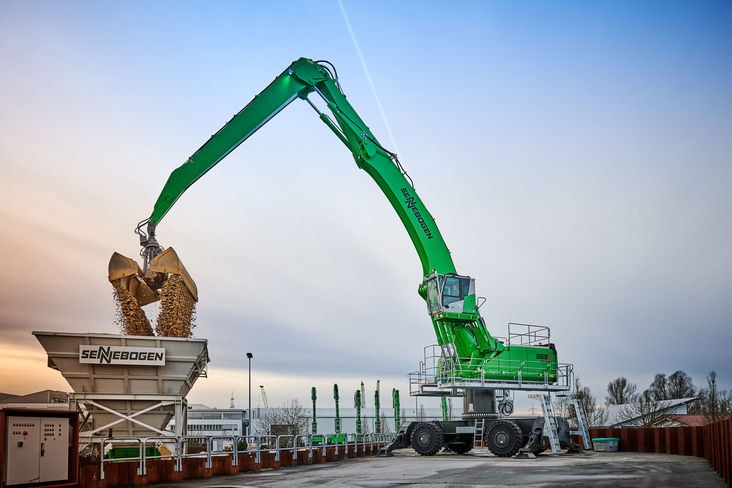 Technical data
Operating weight
from 90 to 110 t

Maximum reach
up to 25 m

Diesel engine
261 kW
+ power of the hybrid system


Electric engine

250 kW
+ power of the hybrid system
Material Handler With High Performance And Low Energy Consumption
Wherever reach coupled with high lifting capacity is required, the SENNEBOGEN 865 E Hybrid impresses with state-of-the-art machine technology, comfort and the best reliability. The 860 E has become the 865 E: we have further developed the popular material handler and given it a significant increase in load capacity, reach and efficiency. You can configure your machine individually, depending on your on-site operating requirements. Benefit from the most modern recuperation technology on the market! With the SENNEBOGEN Green Hybrid System, you can reduce your energy consumption by up to 50 %.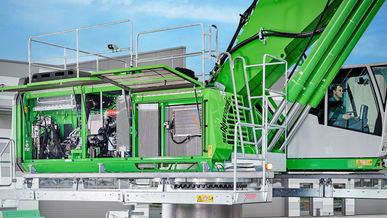 Highest Performance - Even In Demanding Jobsites
Consistent performance thanks to robust steel construction and high-quality drive and control components
Reduce ship berthing time thanks to a high handling capacity of 850 t per hour
Designed for extreme operations, e.g. under extreme heat or cold conditions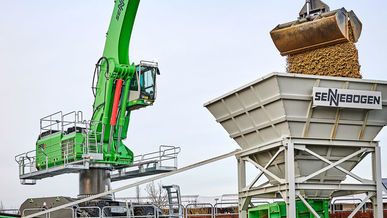 State-of-the-art Recuperation Technology: Save Up To 50 % Energy
Consistent power transmission during the lifting process thanks to large system volume
High reliability and spare parts availability: system consists of standard hydraulic components
Individually adjusted to deliver maximum system performance with any machine configuration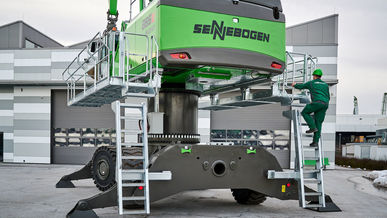 Maximum Safety: Safety Features Specially Developed For Port Operations
Cab and machine components can be reached safely via stairs and ascents
Component safety: robust steel construction in our own steel fabrication for maximum service life
Safety Boom Lift protects ship hull, port surfaces, equipment and grab by automatic grab lift during closing
Load moment limitation protects your machine in case of impermissible load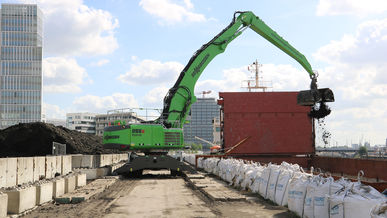 Individually Configurable - Exactly Adapted To Your Application
Maximum variety: our modular machine design offers you maximum flexibility and more than 16,000 unique material handling solutions
Drive variants: Electric or diesel? Decide on the most effective solution. We are the world's leading provider of electrical solutions and will design the perfect solution for you.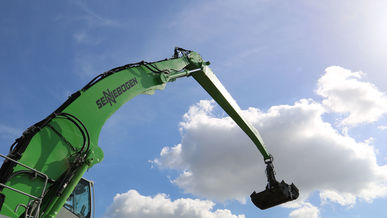 Best view of work and critical areas: large glass surfaces, floor window and safety cameras
Maximum ergonomics: back-friendly comfort seat, adjustable armrests, ergonomic joysticks and optimally arranged controls
Optimal indoor climate: heating/air conditioning system, for a well-tempered workplace
Intuitive operation: the SENCON control system gives you feedback on all significant machine parameters and lets you switch between different working modes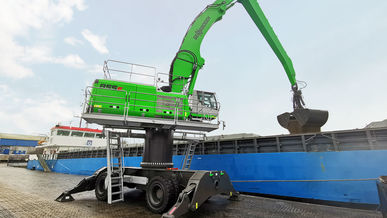 Easy Service, Intuitive Maintenance: Save Time & Reduce Your Costs
Low total costs of ownership, e.g. through cost-effective spare parts and manageable and service-friendly technology
Easy troubleshooting: telematics and control systems
Fast and efficient maintenance and repair:
Centrally accessible components and maintenance points
Clear labeling of components